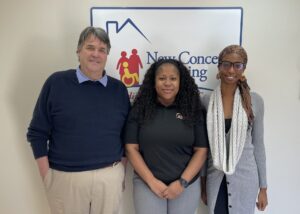 January 4, 2023:  New Concepts for Living would like to welcome and congratulate our new hires and promotion of staff.
Peter Curtin joins the team as our new Development & Fundraising Director. Peter has a Bachelor of Arts in Political Science from Trinity College. Prior to coming to NCFL, Peter was a fundraising consultant with his own business for 17 years.  Peter has a passion for helping people with special needs live better lives and cannot wait to make a difference for our group of extraordinary individuals.
Yasminah King has been a Community Residence Manager at NCFL for the past five years.  Yasminah was recently promoted to Area Manager, a position she took to share the knowledge she has gained over the years to help others assist our residents to gain their best quality of life.
Ariana Moseley is our new Digital Marketing Assistant.  Ariana graduated from William Paterson University with a Bachelor's degree in Psychology and a minor in Sociology. Before Ariana came to NCFL, she was a business and marketing consultant for small businesses. Ariana came to NCFL for the opportunity to use her skills for a good cause. She loves the variety and diversity of the people, activities, and events we offer to our clients.