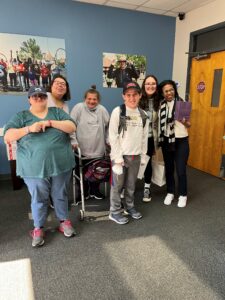 September 26, 2022: Shaye Bundonis, Long Hill, NJ, recently completed her Girl Scout Gold Award Project. The Girl Scout Gold Award is the most prestigious award in the world for Girl Scouts. It focuses on leadership, career exploration, personal growth, and community action. It is also the most difficult to earn.
Shaye earned her award by adapting different battery-operated toys to switch access in order to make them more accessible to our population of extraordinary individuals.
Shaye visited our Day Program and donated a spin art machine, a fan, and an inflatable mini tube guy for our group.
Many thanks to Shaye and congratulations on her award!