(Paramus, NJ 8/10/2023) (For Immediate Release) Lakeland Bank awarded a $25,000 Community Impact Grant to support New Concepts for Living's Mission: caring for special needs individuals and providing much needed respite for their guardians. New Concepts for Living (NCFL) is providing community partners with the opportunity to invest in this population by supporting a brand new, state-of the-art Achievement Center. The future site of NCFL's day program will be located on Rt 17 at the former Barnes and Noble in Paramus NJ.
"It's been an incredibly rewarding experience to partner with New Concepts for Living on their Achievement Center," said Ron Krauskopf, First Senior Vice President, Group Leader – Specialty Lending Teams at Lakeland Bank. "The passion they bring to the clients and families they serve is unrivaled. They are a best-in-class organization and Lakeland Bank is proud to support them."
With assistance from community-minded partners like Lakeland Bank, NCFL will more than triple its capacity when the new facility opens its doors in 2024. Grants of this nature support services that adults with special needs depend on. This includes dedicated programs for medically fragile, behavioral, and non-behavioral individuals which will be part of the new Achievement Center.  Each specialized program will offer a variety of recreation, socialization, and prevocational training.
"In addition to construction costs, support from generous partners like Lakeland Bank helps provide services that offer a more hopeful future for those we serve and their families," explained NCFL's Assistant Development Director, Marisa Guastella. "We are grateful to Lakeland Bank for their generosity and partnership," she added. Special needs individuals, also known as individuals with IDD (intellectual and developmental disabilities) are among society's most vulnerable population. Adults living with IDD are more likely to suffer from depression, diabetes, smoking related illnesses, and heart disease. Only 7.9% of these individuals between the ages of 21-64 can work.
"It brings me great joy to see our guardians free from worry when they realize how we care for their loved one. I am humbled by how far we have come and remain steadfast and focused on where we are heading," states Steve Setteducati, CEO of NCFL.
 About NCFL:
New Concepts for Living (NCFL) was founded in 1981 by a group of parents whose children had intellectual and developmental disabilities (IDD). As their children aged, these parents realized the lack of programs for adults challenged with these special needs. NCFL not only cares for individuals with IDD but enriches their lives.
Our Community Residence Program opened in 1985 and the Achievement Center Day Program welcomed its first participants in 1999. Since then, NCFL's continued growth spanned Northern NJ including custom built homes for the medically fragile. NCFL's programs are complete with socialization, skills training, community inclusion, and direct support that includes nurses and behavioral therapists onsite and on call 24/7.
About Lakeland Bank:
Lakeland Bank is the wholly-owned subsidiary of Lakeland Bancorp, Inc. (NASDAQ:LBAI), which has over $10 billion in total assets. With an extensive branch network and commercial lending centers throughout New Jersey and Highland Mills, N.Y., the Bank has been offering business and retail banking products and services for over 50 years. Business services include commercial loans and lines of credit, commercial real estate loans, loans for healthcare services, asset-based lending, equipment financing, small business loans and lines, and cash management services. Consumer services include online and mobile banking, home equity loans and lines, mortgage options and wealth management solutions. Lakeland is proud to be recognized as a Best-In-State Bank by Forbes and Statista for the fifth consecutive year, named a Best Bank to Work For by American Banker and Best Companies Group, rated a 5-Star Bank by Bauer Financial and named one of New Jersey's 50 Fastest Growing Companies by NJBIZ. Visit LakelandBank.com for more information.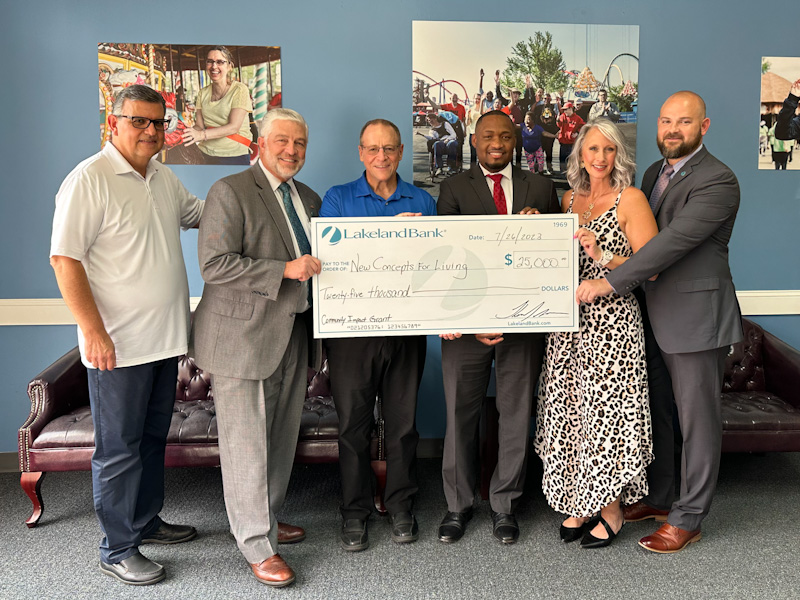 Lakeland team members present check to New Concepts for Living. Pictured left to right: Gus Loukas, Chief Financial Officer of NCFL, John Rath of Lakeland Bank, Steve Setteducati, Chief Executive Officer of NCFL, Calvin Pascall of Lakeland Bank, Marisa Guastella, Assistant Director of Development and Fundraising of NCFL and Ron Krauskopf of Lakeland Bank.