Thinking of a new career path? In this NCFL Team Spotlight, we are highlighting two Direct Support Professionals who were new to working with adults with intellectual and developmental disabilities (IDD) but found the career move to not only be worthwhile, but also inspiring and rewarding!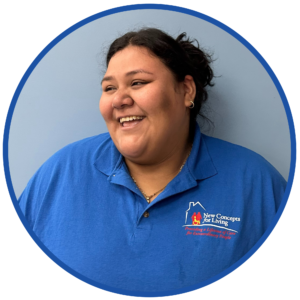 Meet Daisy – a dedicated Direct Support Professional (DSP) at NCFL's Achievement Center Day Program for nearly three years. After high school, Daisy took some time off to explore her interests and discover her true calling. She struggled to find a job that resonated with her, until she joined NCFL, where she found her purpose and passion! Daisy feels the organization provides her with a sense of belonging. More than just a workplace; it's a safe space where she can truly be herself and support the residents and day program participants to reach their full potential. "I look forward to going to work and seeing everyone, I feel complete," shares Daisy.
Daisy's commitment to her role as a DSP is immeasurable. Not only does she go above and beyond to ensure the well-being of the participants, but she also takes on extra shifts at the Community Residences, extending her care beyond the Day Program.
For those without prior experience considering a career as a DSP at NCFL , Daisy offers this advice, "Go for it. Working here was one of the best and most rewarding decisions I've ever made." Her experience at NCFL has been transformative, inspiring her to pursue further education to work with IDD adults.
In her spare time, Daisy's passion for helping others extends to her beloved furry friend. She is diligently training her dog, Coco to become a therapy pet, with the hope of bringing him to the Day Program to work alongside the participants. Just another way Daisy shows her steadfast commitment to making a positive impact in the lives of those she serves.
Daisy's experience as a DSP at NCFL shows that trying new things can really pay off. Her commitment, genuine care for the participants, and desire to make a difference have earned her a special place in the hearts of her colleagues and the entire NCFL family. She stands as a great example for anyone seeking a fulfilling career as a DSP at NCFL.
To learn more about working at NCFL and available positions, visit our Careers page.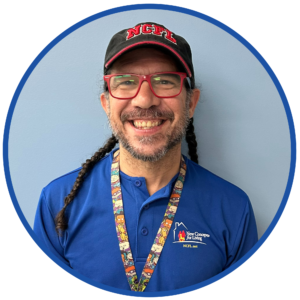 Meet Freddy – a vibrant and compassionate DSP who joined NCFL a little over a year ago. Freddy's path to NCFL began with Bachelor of Fine Arts from Parson's School of Design, working as a successful clothing designer for almost 30 years. He eventually transitioned into being an after-school assistant teacher. His natural talent with children and dedication soon caught the attention of a major childcare company, where he continued to excel. Eventually, Freddy's journey led him to NCFL where he found his true calling as a DSP. Combining his experience in caring for his mother with dementia, his love for childcare, and newfound passion for supporting adults with IDD, Freddy discovered unparalleled rewards in his new role as a DSP. "Nothing compares to the rewards I've gotten in both childcare and caring for our friends with IDD," Freddy shares with enthusiasm. "I come in to work every day with no expectations other than to just enjoy and have fun while celebrating our participants and keeping them safe."
To those considering a career as a DSP at NCFL without prior experience, Freddy says: "Don't wait and don't hesitate. You will not regret it; no two days are the same." His words show the fulfilling nature of the job of a DSP where each day brings new opportunities to make a positive impact in the lives of adults with IDD.
Hailing from Queens, Freddy was raised by parents, a seamstress and a factory worker, along with his two siblings. He is a proud father and uncle who values family and the importance of compassion and care, something that is evident when he is working at NCFL's Adult Achievement Center Day Program and Community Residences.
Freddy's cheerful demeanor and eternal optimism make him a valued member of the NCFL family. He has a unique ability to see the bright side in every situation and the good in everyone. This positive outlook uplifts those around him and contributes to the nurturing and inclusive environment at NCFL.
Freddy's journey from successful fashion designer to dedicated and joyful DSP at NCFL is another great example of embracing new opportunities. His presence at NCFL enriches the lives of those he serves, and we are delighted to have him as part of the NCFL family.
If you are ready to make the leap to a new career as a DSP, visit our Careers page for open positions and to apply!