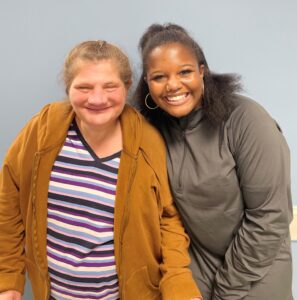 October 14, 2022: This month's October Staff Spotlight shines the spotlight on  Tiarah Ferguson, Day Program Counselor. Tiarah began working at New Concepts for Living last year.
When asked what she likes best about working here, Tiarah responded, "I love the sense of fulfillment I get helping the clients with their behaviors and in their everyday lives. When I first started working here, I did not think I could love the clients as much as I do. They have become like family to me."
Tiarah also works with kids who have autism providing ABA therapy. In her free time, she enjoys going to the gym, reading, watching television, and cooking.