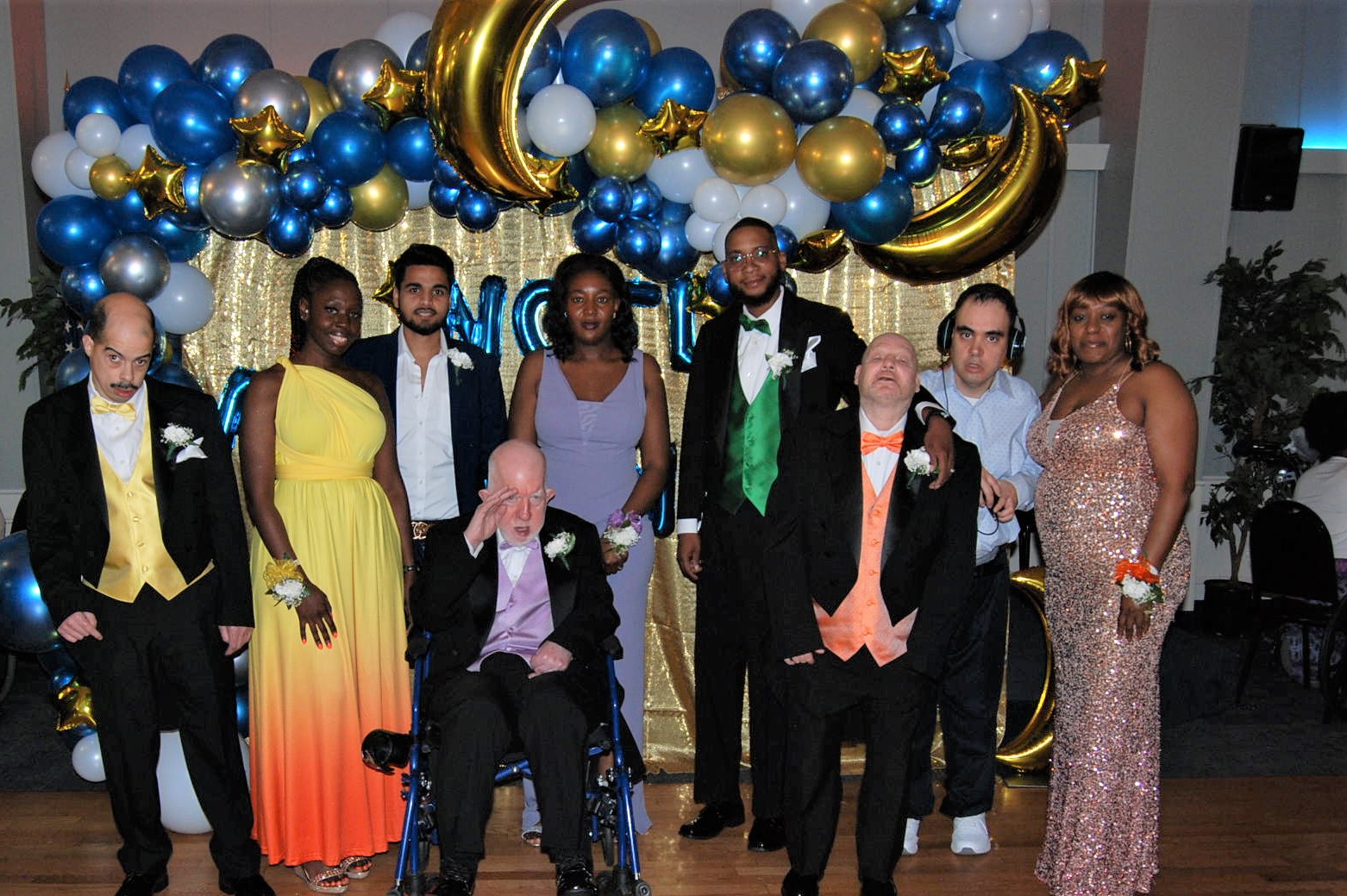 April 11, 2023:  As NCFL's 2nd Annual Prom Night approaches, we asked a few of our staff how they prepare NCFL's residents and Day Program participants for the big day.
The River Edge home takes their party attire very seriously. For events and holidays, Community Residence Manager, Lakesha Campbell carefully curates a cohesive look for all the residents and staff! At last year's prom, the staff color coordinated their outfits to match the tailcoat suits that River Edge residents wore. Staff also purchased corsages and boutonnieres to match. "It makes the guys happy to get dressed up and see us all dressed up too. They get excited to go and have a good time at the NCFL parties," says Campbell. When Campbell took them to get their outfits tailored, she recalls one resident looking in the mirror and saying, "I feel like a million bucks!"
Over at the Teaneck home, Assistant Manager, Joe Lowder takes pride in making sure the guys look "fly" not only for prom, but all the time. "I take them to my barber when they need haircuts. Everyone there loves them, and they feel real good and always ask for a 'cool' haircut," says Lowder. "For Prom Night, we'll go shopping and pick out outfits that fit them well and in colors that look really good on them." Lowder adds, "I love to see how happy and excited they are when they get ready."
"I love to help them select outfits that really speak to their personalities," says Yasminah King, Area Manager. "Some of the residents will sit with me at the computer and we will pick out outfits together. As for others who may not want to sit and shop with me, I've acquired a sense of what they like to wear throughout the years, and I'll pick out nice outfits for them. I'm excited to see how their looks turn out for Prom."
At NCFL's Day Program, the preparation starts early. Last year, staff used scheduled Arts and Crafts time to hand make corsages and boutonnieres for the participants. They also set up stations and provided manicures, makeup, and hair styling. "It was really nice to make them feel beautiful," explained Day Program Counselor, Tiarah Fergusen.
We are excited to see everyone all decked out and dance the night away at NCFL's 2nd Annual Prom Night on April 21st! If you haven't RSVP'd and would like to attend it's not too late!  Click here to let us know you are coming and come celebrate with our 'Red Carpet-Ready residents too!