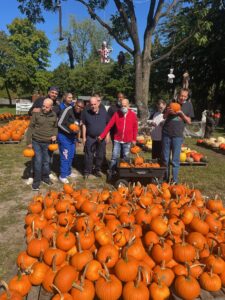 October 7, 2022:  NCFL's Day Program enjoyed a great day of pumpkin picking at Ward's Farm in Ridgewood.
Pumpkin picking is a great way to engage individuals in learning and growth. Picking their own pumpkins gives participants a sense of independence and pride. It can also provide a teaching opportunity about pumpkins, gourds, and other fruits and vegetables that grow on vines.
There were many sizes to choose from. Everyone picked their own pumpkin to bring home and had a great time!