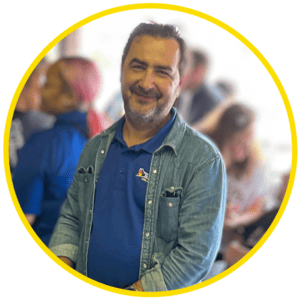 For this month's Team Spotlight, we're thrilled to introduce Vlad, a compassionate Direct Support Professional (DSP) dedicated to serving our community residence in Upper Saddle River. Vlad has been an invaluable member of the NCFL team for nearly a year, with his anniversary approaching in November. His personal experience as a father of two special needs daughters has inspired his commitment to making a meaningful difference at NCFL.
"Being a DSP means helping people who need us. Whether it be for something small or something big, our residents need our help, and providing that is my favorite part of the job," shares Vlad. For him, every smile and hug from the residents shows their gratitude and proves the significance of the difference Vlad's work as a DSP is making in their lives.  He adds, "My favorite moments at NCFL are every hug and every smile I receive from our residents."
Outside of his responsibilities at NCFL, Vlad cherishes spending time with his daughters and expressing his creativity through music composition. "Music is my life, and I absolutely love it," Vlad enthuses. He extends this passion for music to NCFL by sharing his musical talents with residents and  Day Program participants.
When asked about the essential qualities of a DSP, Vlad emphasizes, "Patience—lots of it—and an abundance of love for people with special needs."
Working with adults with Intellectual and Developmental Disabilities (IDD) is a significant responsibility, as they are among the most vulnerable populations. DSPs like Vlad play a pivotal role in improving their quality of life by offering personal care, medical assistance, skill development, emotional support, and, as Vlad mentioned, an abundance of love.
If you're passionate about making a difference in the lives of others and are considering a career as a DSP, we invite you to explore opportunities with us at NCFL. Visit https://ncfl.net/careers/ to apply today and join us on a rewarding journey of care and compassion.