At New Concepts for Living (NCFL), our commitment to ensuring the well-being of every individual in our care is unwavering. With a team of dedicated Registered Nurses (RNs) and Licensed Practical Nurses (LPNs) available around the clock, we proudly provide exceptional care to our family of extraordinary individuals. In this month's Team Spotlight, we're excited to introduce you to Katelyn, one of NCFL's remarkable nurses who brings her dedication and compassion to the forefront of our mission.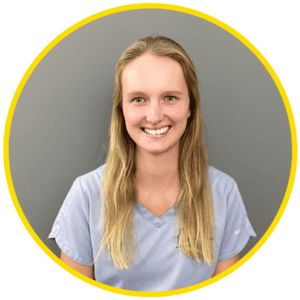 Q: How long have you been a part of the NCFL team and what drew you to work here?
A: I have worked at NCFL for a little over a year, and wow it's gone by so fast! I first heard about NCFL from a family member of a current resident. He had recently moved his daughter into one of our group homes and hearing all their positive experiences with the organization made me interested in pursuing a career here as a nurse.
Q: What inspired you to embark on a nursing career?
A: I have an uncle with disabilities, and we basically grew up together, so we have a really special bond. He is a big part of why I became a nurse. Looking for a job in this field, after gaining some experience in a hospital setting, was only natural for me. 
Q: What activities or hobbies do you enjoy outside of your nursing role? Is there an interesting fact about you that you'd like to share?
A: Outside of work I LOVE to hike. Climbing mountains, being on the edge of cliffs, and chasing waterfalls are my thing!
Q: Could you share a memorable moment from your time at NCFL?
A: For me a memorable moment is when I went to pick up a new resident with a fellow nurse, and as we were leaving his previous residence at a nursing home and on the drive back to NCFL he had a huge smile and kept saying "I'm going to my new home! I'm going home!" and clapping. It made me smile the whole way home as well.
Q: For those considering a nursing career at NCFL, what words of encouragement or advice would you offer?
A: I would say this is a place where you can really make a difference as a nurse and will eventually become your second family.
Katelyn's experience exemplifies the passion and dedication that defines NCFL's nursing team. We are grateful to her and the entire nursing team for their exceptional contributions.