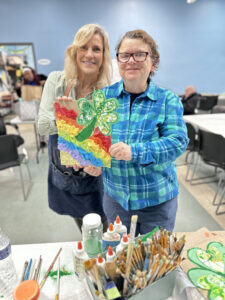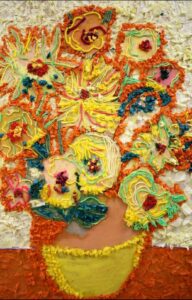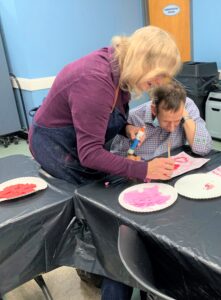 March 15, 2023:  NCFL is pleased to have Debra Koplish, LLC providing therapeutic art to our clients. For over fifteen years, her company has happily and successfully accomplished a variety of masterpieces they treasure and are so proud of.  She works with air dryable clay creations, homemade clay projects, real drawing, large paintings and seasonal projects in group settings.
Debra noted the arts are incredibly therapeutic for this particular community. It helps individuals with intellectual and developmental disabilities (IDD) express feelings and thoughts, enhances self-esteem and self-awareness, promotes well-being, increases communication and coping skills, and much more.
Debra's daughter, Meghan, has joined her for the last several years. They work specifically with individuals having mental and physical disabilities of all ages.  Debra and Meghan love connecting creativity with educational and fun conversation. Their goal is to draw out of each individual, their best artistic abilities and to grow their confidence.
Through diverse sensory mediums, instruction, and splashes of art history, their program has sparked the minds of many through the years. They adjust skills and tools accordingly with every individual's capabilities to accommodate success.
Debra and her daughter love what they do. She noted, "Early on, the special needs community took hold of our hearts. They are some of the greatest souls amongst us all. As we teach, inspire and assist their growth, they are actually changing all of us for the better. This is not a "job," this is an alignment of souls, as we are learning together."
When asked how her experience has been working with our clients, she stated, "It has been great. NCFL has so much heart and it runs like a big extended family! Simply perfect!"